Written By Mara McEwin
Choreographed By Emily Bunning
Music Composition by Roderick Jackson
Running Time: 45 Minutes
Number of Performers: 2 Actors, 3 Dancers, 1 Live Percussionist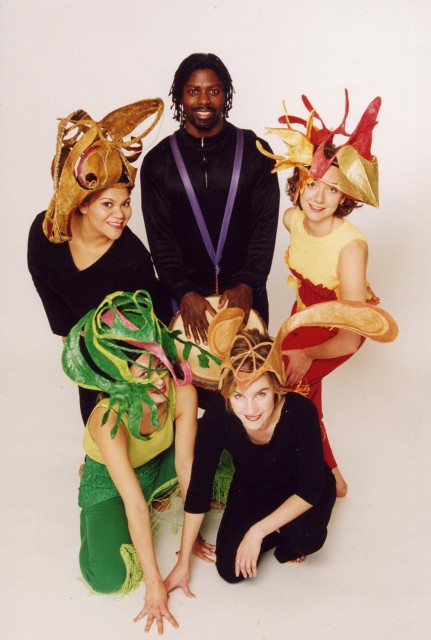 Animal Rhythms is an enticing performance blend of West African story culture, dance, theater and live music. Told in bright Afro-influenced costumes and enchanting animal headdresses, Animal Rhythms has audiences explore rhythms as they create the sounds of the story drum using their own bodies and are introduced to modern dance through the humorous characters onstage. Animal Rhythms is excellent for audiences of all ages, and can also be presented with workshops that include: African drumming, storytelling, and dance tailored to accommodate the appropriate age ranges.
WHAT THE PRESS IS SAYING
"Treehouse Shakers creates fantastic dance/ theater performances for children that has the subtlety and artistry that engages their adult companions.  I went on my own, without a child and loved it!"
-Jackie Pine, Executive Director Early Stages Program, Inc.
"Treehouse Shakers' performances are captivating and riveting to children from 2 years to teen! Our families are still talking about the performances and the children are still singing along with the songs. This isn't your same old fairy-tale, this is something much bigger and better!"
-David Zimmerman, Executive Director, DeBaun Auditorium