Written & Directed By Mara McEwin
Choreographed By Emily Bunning
Original Music By Anthony Rizzo
Puppets & Costumes By Patti Gilstrap
Running Time: 45 Minutes
Number of Performers: 2
Ready to Tour 2017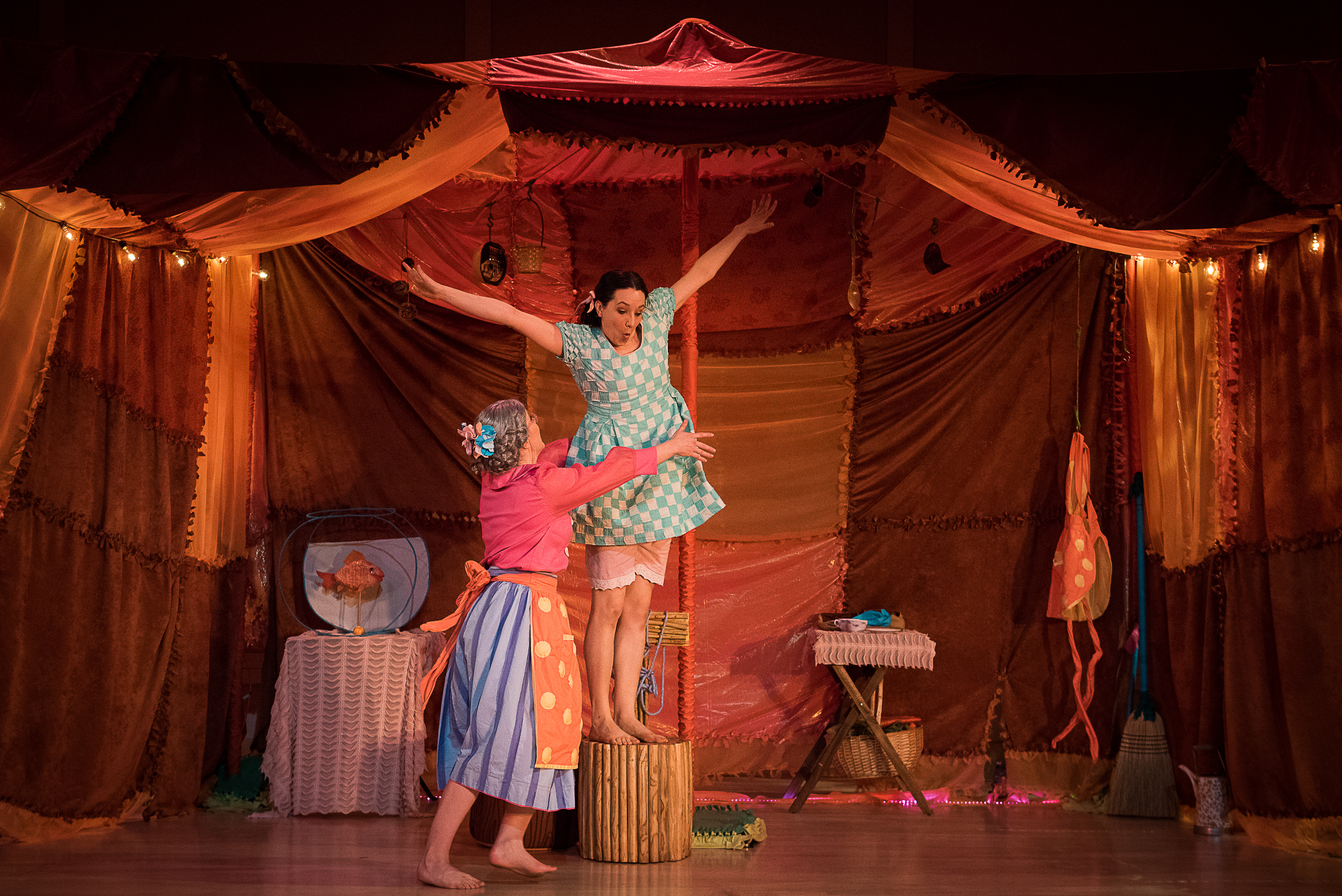 Olive & Pearl is specifically created for the very young child, ages 2-5. Centered on thematic elements of home, it is the story of a young girl, Olive, who is lovingly being raised by her Granny, Pearl. Intimately staged, audiences sit within Olive & Pearl's home, which is made out of a dome of soft felts, crocheted squares, and colorful fabrics. Throughout their day Granny builds fires, warms tea, makes meals and has a comforting lap with safe arms to rock Olive to sleep. The characters play fairy house, go on an imaginary journey to the moon and learn the Jig. Metaphors of home are woven throughout the set and story; there is a robins' nest above the window, a mouse's hole, and a fish in its bowl. The moon, which is an elegantly carved wooden puppet, pearlescent in color, plays a significant role within the home as an unseen character. Home is not only the structure of one's house, but the place one longs for, like the magic, glowing moon, to feel safety, love and warmth. Magical, visual, stimulating, and oftentimes funny, Olive & Pearl is a supportive performance first for the very young.
Check Out Our Olive & Pearl Promo Video 
WHAT THE PRESS IS SAYING
"My daughter enjoyed the show tremendously! She has been playing "Olive and Pearl" since Saturday. I'm Granny Pearl, she's Olive, her brother is the fish and her dad is the "guy who plays the guitar". It was her very first theater experience and very a memorable one. Thank you so much for providing us with such a wonderful time. We look forward to more shows in the future!"
-Alexandra Cahill, Parent in NYC
"The tone, pace and level of entertainment was perfect for our 3-4 year olds. Our children kept telling us, "this is amazing."
–Hanson Day Care, Teacher, Brooklyn
"Loved the guitar, puppets and dance." –Katy Wallace, Parent of a 3 year old, NYC
"Very sweet without being overwhelming. Pretty set and dance. My three-year old daughter told me, "I liked that they were dancing and that we got to go see them."- Hannah Warren, NYC parent
"Beautiful sets, wonderful expressive acting, perfect pace for my two year old son. We hope you will continue to make more shows for this 0-5 age group."-Brooklyn Parent, NYC "We loved it! My son was completely riveted."-Parent of 5 year old, NYC
DOWNLOADS