Let's Talk About IT!
Choreographed By Emily Bunning
Written By Mara McEwin
Film By Kinetiscope
Running Time: 1 Hour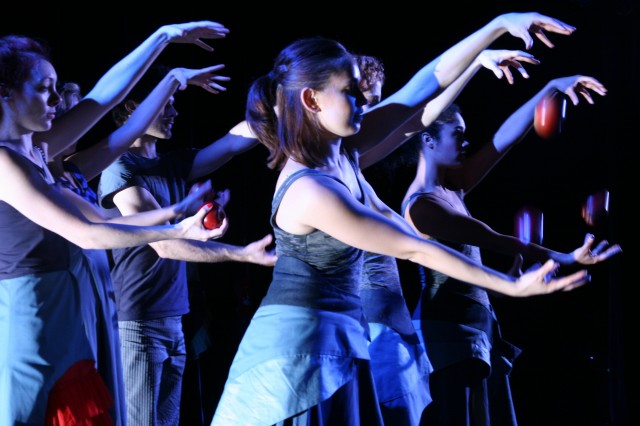 Let's Talk About IT! a coming of age dance-play for teens that deftly and humorously explores intimacy, relationships and the challenging choices teens face in the twists of every day. Let's Talk About IT! incorporates the vocabulary of dance, ancient world folklore, real-life stories, and video interviews of everyday teens. This multi-media melding develops the teen story in an age of video web-cast, instant messaging, and the constant need for media notoriety, while holding onto the conflicts, thoughts and dreams that have inflicted teens throughout the centuries.
WHAT THE PRESS IS SAYING
 "I was impressed and moved by the show. It really brought home so vividly the importance and impact of the Shakers' mission. I am in awe of the company's talent, beauty, passion…"
-Linda Novak, Audience Member
"The Brooklyn STEP from Canarsie High School had the pleasure of attending "Let's Talk About IT!" Students and staff found the play to be enjoyable and interesting, coupling the theme of relationships with the notion of succumbing to peer pressure. Many of the students were able to empathize with the plays messages relating their own experiences. Students and staff found the choreography to be very intriguing and satisfying. Additionally, the staff was impressed by the video, which was run in conjunction with the live performance. This was a wonderful experience for all involved and we look forward to additional performances by Treehouse Shakers. Rating A for awesome."
-Lawrence Newman, Program Coordinator,
The Brooklyn Skills Training for Employment Program (The Brooklyn S.T.E.P.)
Canarsie High School, Brooklyn, NY
"Our Students loved the performance. Thank you for providing this wonderful opportunity."
-Ms. Sandra Perez Principal, Hudson Honors Middle School, New York, NY