Written By Mara McEwin
Choreographed By Emily Bunning
Live Music Composition By Roderick Jackson
Recorded Music Composition By Mark Sopchak
Running Time: 45 Minutes
Number of Performers: 2 Actors, 3 Dancers, 1 Live Percussionist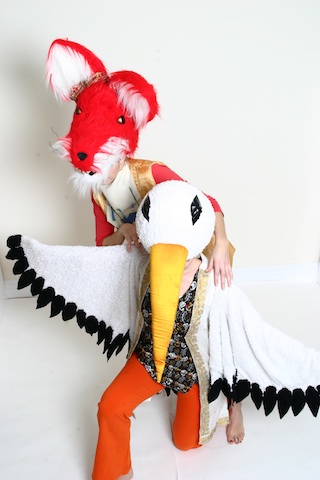 Desert Travels gives audiences a mesmerizing taste of life in the Middle East, through the retelling of two humorous Middle Eastern stories: The Rat Who Bargained Too Much and The Fox and the Stork. Desert Travels is an intriguing performance mosaic of modern dance, storytelling and live music. Told in beautiful flowing costumes, the dancers move to a lively and delicate mixture of Middle Eastern influenced music. As is a Treehouse Shakers' trademark, audiences are led into each magical story with a five-minute movement and storytelling workshop allowing them to learn parts of the dance they are about to view.
WHAT THE PRESS IS SAYING
"I was amazed to see how quiet and enraptured a bunch of kids could be for a whole hour!"
-Angharad Davis, Dance Teacher, New York, NY
"This celebration of Middle Eastern culture is entertaining and heartwarming."
-Susan Maloney, Urban Baby Daily